Friday, September 15, 2006

Where my Mac-users at?


I've finally joined the ranks of Mac owners. Mine is shiny and silver. It doesn't have a name yet, but I've just been calling it "my precious." If any of you have any tips you've learned for keeping your Mac happy, please send them my way.



Chicago's a sweet deal, though the low-level corruption continues to surprise me. For example, riding on the ell, there are frequent reminders that gambling is not allowed. And I thought gambling on trains only occurred in 1930s "The Sting"-esque settings.

Also, I got a counterfeit bill as change yesterday from a coffee shop on at the edge of Loyola's campus. I've never seen one before, so I don't think to look at money before putting it in my wallet. I get to a different coffee shop, and go to pay for a better cup of coffee, and the clerk says "That's a wierd-looking five-dollar bill." Then he whips out a counterfeit pen (also not something I would have thought to have on hand when I was a clerk) and it shows on the bill.

I've only been here four days.

At this point I just find these instances, but I'm sure it gets malicious at points.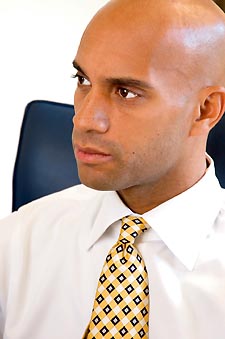 And I haven't even begun to get into local politics, yet. Still too stuck on D.C., where Adrian Fenty, who grew up two blocks away from me and is only 12 years older, just won the Democratic primary for mayor, and essentially the office. And he went to DC public schools, which really warms my heart. Go DCPS!


He swept every precinct in every ward. The first time a mayor has done so. And I trust D.C. voters that it was not just because he's hot. I mean, mostly.